Just a quick reminder that Scarlett Amplification is a complete Custom Shop!

Faster Than Hell Nothing to Lose from Anthony Ladesich on Vimeo.


Featuring Mike Rooney on the Les Paul into Scarlett Amplifier #2, The Rhianna model. Mike Farren on bass is using a warhorse old 70′s Ampeg SVT that i rebuilt and tuned and my brother Ryan Marchman is on drums. Kriss Ward is hollering sweet nothings at you while you get your face blown off. Anthony Ladesich is the film maker and also a proud owner of two Scarlett amps. The El Pastor 2×10 combo is a sweet little 18 watt amp with 6v6′s and he also commissioned me to build a 25 watt head for him last year.
Find Faster Than Hell on the web at
http://fasterthanhell.com/wordpress
You can find Tony Ladesich at Mile Deep Films and Television at
http://miledeepfilms.com

Hey Everybody it's been awhile since I updated. I've just been so busy that i didn't realize it had been so long.
I had the opportunity to have some High Quality photos taken of some amps and Ryan Marchman did an amazing job.
I have introduced a couple new amps and this one is one of my favorites.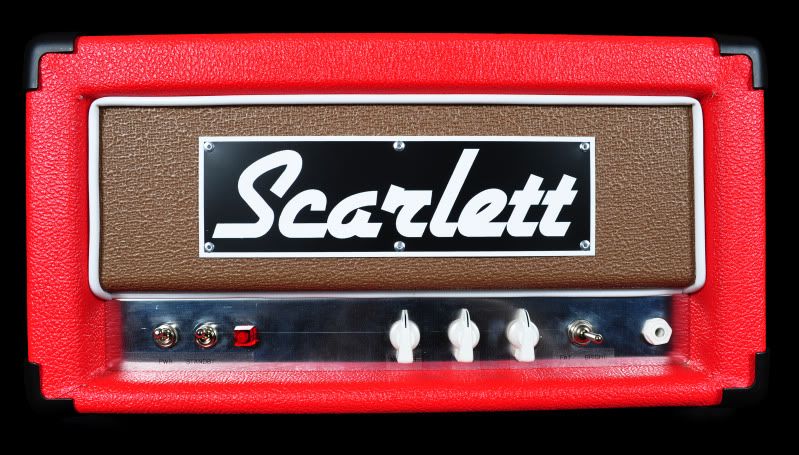 The Mini Scarlett. 15 watts or 7 watts selectable w/ switch. Gain,tone and master volume controls, Fat or bright voicing switch, 4,8,16 ohm speaker selector, 2 6v6 power tubes and 2 12ax7′s hand built by me. Very reasonably priced at $900